I feel like I've been waiting for this to drop FOREVER!!! I've been battling a touch of insomnia so I was MORE than pleased to tune in to Part 3 of The Chilling Adventures of Sabrina the moment it dropped on January 24th and here's why YOU should be just as obsessed. I'll keep the spoilers to a minimum, but DEFINITELY finish Part 2 before you go on.
Netflix
Ladies and Gents, the wait is finally over (kind of) as we get to settle in for a binge-a-thon with our new favorite witch, Sabrina Spellman. Here's the preview:
So, we know we left off Part 2 of CAOS with Nabrina (Nick Scratch and Sabrina, End Game) in a tough situation to get out of! Nick did the most honorable thing and used his OWN BODY as a prison for Sabrina's not so loving father, Satan. They then sent the body prison that is Nick to Hell with its new ruler Lilith. Part 2 was such a whirlwind, and they started Part 3 NO DIFFERENTLY! We pick right up into Sabrina and her closest friends Roz, Harvey and Theo (The Fright Club – so fitting) on a mission to save the handsome Nicholas Scratch from the clutches of Hell, and from being locked in the prison of his own body with the Dark Lord. We find that for love, Sabrina is willing to go Straight To Hell. Check it out:
Turns out with Satan in jail, Hell needs a Royal Highness to rule. That means Sabrina needs to step up to the throne and secure the crown from a handsome challenger, Prince of Hell Caliban. Sorry, Lilith, I guess you have to wait a bit longer for your chance. Ruling Hell, managing the life of a cheerleading teenage girl, and being part of a coven that just overthrew its commander in chief makes for a pretty full plate. But Sabrina's got the best team to help her do it.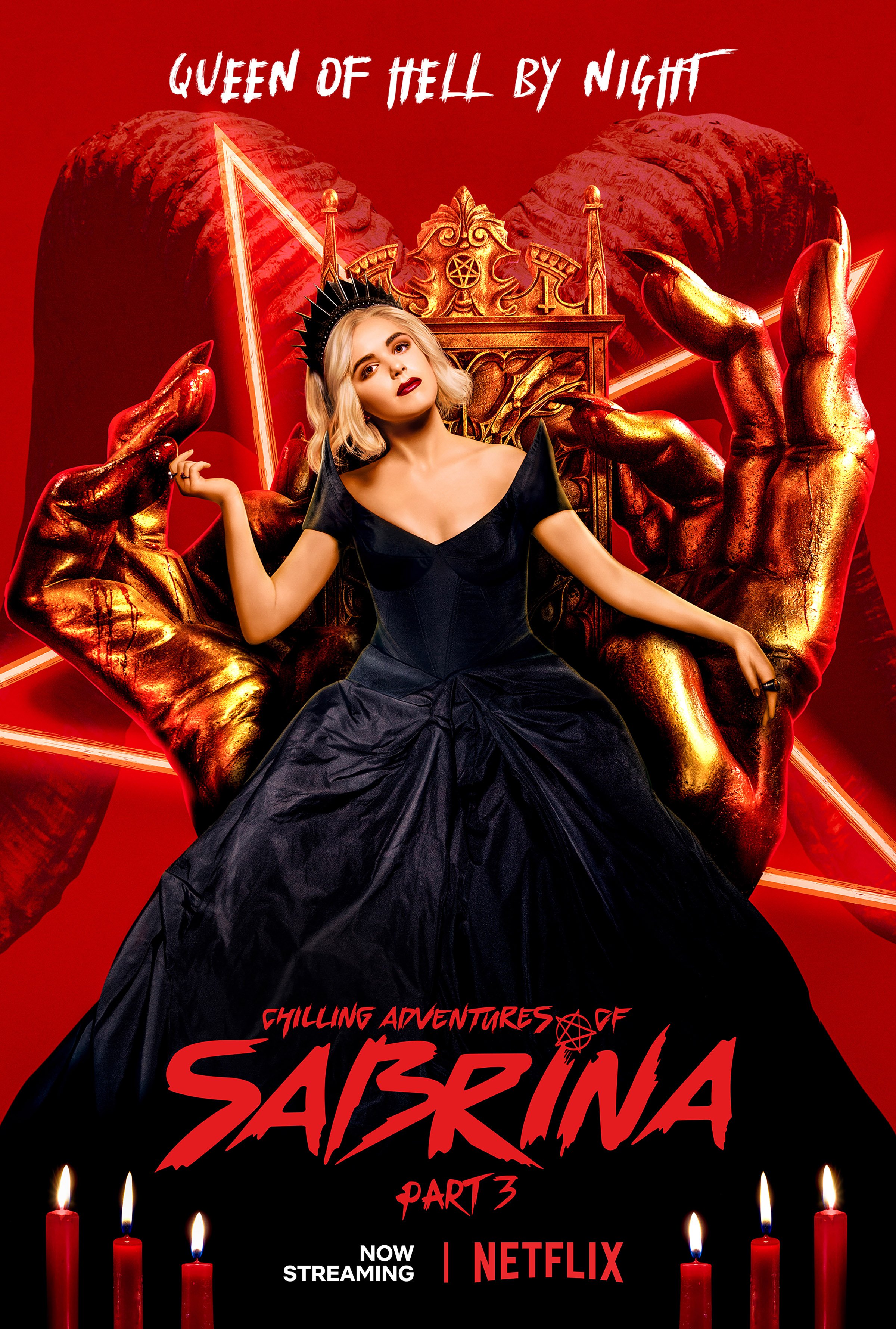 Netflix
There are so many storylines to follow this season and not a single dull moment. While Sabrina is working her way to being the Supreme Leader of Hell, a new band of strangers is pulling up in Greendale. A tribe of Pagans threatens the safety of her coven back home and they'll have to go to new lengths to secure their safety!
I can't tell you how much I love the amount of representation in this! I grew up loving all the shows about magical and mystical things, but rarely have I had the opportunity to watch such a big production cover these magical bases with people of color as primary characters! You guys know I love Ambrose and even the sometimes villain in Prudence (my fave), and the BFF love in Roz! This season we get to meet a new Character Mambo Marie who brings a new twist to the Magic the crew experiences.
Netflix
Netflix
Do you watch The Chilling Adventures of Sabrina? Who's your favorite character? Let me know down in the comments section! And share this post with your friends so we can all fan out together.
Comment – Share – Subscribe
-Nikki